Rufus Thomas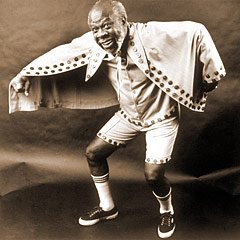 Biography
Born on March 26, 1917 and raised in Memphis, Rufus Thomas performed for over seventy-five years. His roles ranged from singer, dancer and comedian to deejay and recording artist. At the age of six, he made his debut on Beale Street in a theatrical production, playing the role of a frog. While still in his teens, he was touring the South as a member of the famous Rabbit Foot Minstrels (both roles preparing him for composing "The Funky Chicken"). He returned home to perform in vaudeville shows and as an emcee for the popular Beale Street talent contests.
Rufus' way with words led him to Memphis radio station WDIA in the late 1940s. As a deejay on one of the country's first black-oriented stations, he regaled listeners with his hometown jive in between playing the top rhythm and blues records of the day. During this time, he began playing regular gigs around town and in neighboring Arkansas and Mississippi, performing both at local black roadhouses and upper-crust fraternity parties. It was at these gigs that Rufus began devising the novelty dance steps that later would become his trademark.
Rufus was a crucial force in the birth of Memphis' two great record companies, Sun and Stax. When Sam Phillips started Sun Records in the early 1950s, Rufus Thomas launched his recording career with a song called "Bear Cat." Written as an "answer song" to big Mama Thornton's hit "Hound Dog," "Bear Cat" brought Sun its first real taste of success. And in 1960, when Satellite Records opened its doors, Rufus persuaded the label to cut a duet with him and his teenage daughter Carla. The song was "Cause I Love You," and it became Satellite's first hit. Soon after, Satellite changed its name to Stax Records and the rest is history.
As Stax kept churning out hit after hit on the soul and pop charts throughout the '60s, Rufus carved out his own niche with grooving dance tunes like "The Dog," "Walking The Dog," "The Funky Chicken," The Funky Penguin," and "The Push And Pull." With his hit songs and outrageous stage presence (he typically wore purple hot pants with matching cape), Rufus truly became Memphis' own "godfather of soul."
In the 1970s and 1980s, Rufus continued to keep busy performing and doing his regular stint as a deejay. He became an integral part of the Stax Reunion in 1988, joining daughter Carla, William Bell, Johnnie Taylor, Eddie Floyd, the "new" Sam and Dave and other soul greats, and he appeared on the Atlantic Records anniversary TV show (Atlantic distributed Stax in the '60s). His charismatic appearance at the famed Wattstax concert has recently been issued on DVD.
Early in 1988, producer Bob Greenlee and Rufus met and began making plans for the return of the world's funkiest grandfather. Greenlee, whose King Snake Records had already released albums by Lazy Lester, Noble "Thin Man" Watts, Raful Neal and Kenny Neal, thought it was time for Rufus to record a true blues record. Rufus, who had been performing blues and spinning blues records for almost 50 years, agreed wholeheartedly.
The result of their collaboration was
That Woman Is Poison!,
released on Alligator Records. And while it had been a few years since his last album, Rufus' raspy, growling voice was still in fine shape, whether on the title track and other originals like "Breaking My Back," or on his raucous readings of two Jimmy McCracklin tunes, "The Walk" and "I Just Got To Know."
Thomas continued to record albums on a variety of labels after the release of
That Woman Is Poison!
in addition to hosting a radio show on Memphis' WDIA and making personal appearances, including hosting the Blues Music Awards. In 2001, Rufus Thomas was inducted into the Blues Hall Of Fame. He passed away on December 15, 2001.
Discography:
1964 Walking The Dog (Rhino reissue)
1969 Do The Funky Chicken (Stax)
1971 Did You Heard Me? (Stax)
1971 Doing The Push And Pull Live (Stax)
1977 I Ain't Getting Older, I'm Getting Better (Avid)
1977 If There Were No Music (Avid)
1980 Rufus Thomas (Hollywood)
1988 That Woman Is Poison! (Alligator)
1992 Can't Get Away From This Dog (Stax)
1995 Rufus Thomas Live! (Stax)
1996 Blues Thang! (Castle)
1996 Do The Funky Somethin' (Rhino)
1998 Rufus Live (Ecko)
1998 Memories (MCA)
1999 Swing Out With Rufus (High Stacks)
2003 The Funkiest Man Alive (Stax)
2005 Just Because I'm Leavin' (Segue)