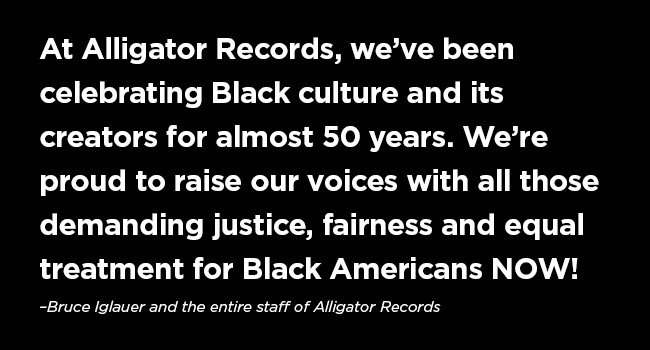 When I created

Alligator Records

, the very first promo piece to promote that very first Hound Dog Taylor album was headed "Genuine Houserockin' Music." That became our slogan, and we wear it proudly today. "Genuine" because the music we record is deeply rooted in the blues tradition (even when it pushes the standard definition of blues) and is created by musicians who have honed their songs not on synthesizers in their bedrooms, but in front of real audiences, responding to the emotional needs of their listeners. "House" instead of "theatre" or "arena" or "stadium," because our music is ultimately intimate, even when it's big and loud. It's not meant to be presented. It's meant to be shared between the musicians and the audience, like everyone at Florence's shared the music with Hound Dog Taylor. And "Rockin'" because it's designed to move you. Most of Alligator's records will move your feet or your body, but we've tried to make records that will move that other part of your soul. Sometimes that can mean music that cleanses your inner pain by pulling it out of you, the "hurts so good" that is so special to the blues. And sometimes it just means the pure release and fun of musicians pouring their energy into a great groove.


-Bruce Iglauer




Alligator Gold Crest Woman's T-shirt
Our newest t-shirt features this metallic gold crest logo on black ladie's scoopneck tees--Genuine Houserockin' Music Since 1971. SM, MD, LG, XL & XXL. We've got 'em in stock and ready to ship! Order yours today!





Alligator Records Signs Blues Master Chris Cain
Read More
Shemekia Copeland Debuts Timely New Song, UNCIVIL WAR
Read More
Gary Clark Jr. Praises "The Cannon," Guitar Effects Pedal Designed For Toronzo Cannon
Read More
Four Alligator Records Artists Win 10 Blues Music Awards
Read More
Charles "Little Charlie" Baty: July 10, 1953 - March 6, 2020
Read More
Christone "Kingfish" Ingram

London, UNITED KINGDOM
07/06/2020
London, UNITED KINGDOM
07/07/2020
Paris, FRANCE
07/08/2020
Rotterdam, THE NETHERLANDS
07/11/2020

Lil' Ed & The Blues Imperials

Buffalo, NY
07/09/2020
Nescopeck, PA
07/10/2020

Selwyn Birchwood

Jacksonville Beach, FL
07/10/2020
Tampa, FL
07/11/2020

Shemekia Copeland

Nescopeck, PA
07/11/2020

The Cash Box Kings

Berwyn, IL
07/07/2020
Click to sign up for our newsletter!